New Zealand - South Pacific District of Kiwanis International
1999 Convention Information Page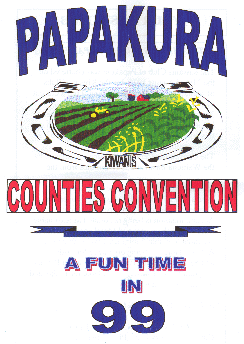 ---
Content:
This page contains information about the 1999 district convention, held 27-28 August, 1999 in Mt. Wellington on the North Island of New Zealand just south of Auckland. The convention was hosted by the Kiwanis Club of Papakura and was chaired by Governor Mike Boyd of Kiwanis Club of Rotowhenua.

Cette page n'est pas disponible en franšais.
 
About the venue:
The convention was held at the Waipuna International Hotel and Conference Center in Mt. Wellington.

The convention center ( Waipuna ) is situated by the Waipuna Basin and is 15 minutes from the Auckland city center.

All workshops, trustees meetings and social events were held at the Waipuna Convention Center for ease of all participants attending. The "Fun Time" theme was well carried out at the 'fancy dress party' (costume party) organized for Friday night and the dinner/dance on Saturday. The partners program was a bus tour of Auckland including the facilities for the 1999/2000 Americas Cup race that were being built at the time.
Convention Theme:     Counties Convention - A Fun Time in '99'
Convention Program
Program - Preconvention - Thursday, 26 August, 1999

10:00-12:00 - District Foundation Trust meeting
13:30-16:00 - 1998/99 district trustees meeting
16:00-17:00 - district finance committee meeting
16:00-18:00 - registration
19:00 - dinner for past governors

Program - Day 1 - Friday, 27 August, 1999

07:30 onwards - registration
09:00 - opening ceremony. Speaker: Rosie Horton
09:45-12:00 - business session (call to order, apologies, roll call, remembrance, adoption of standing rules, appointment of parlementarian, introduction and address by International Trustee Hyun Soo Kim, voting on proposed bylaw amendments - a new set of bylaws was adopted, district officers' reports, strategic planning report, treasurer's report, finance committee report)
12:00-13:15 lunch
13:30-16:00 - business session (world service project, voting on proposed dues increase - district dues were raised from NZ$40.50 to NZ$45.00, forum - work smart by guest motivator Jane Erickson)
16:00-17:00 workshops (publicity: Lt. Governor Lin Thompson, club enrichment: Lt. Governor Tony Popplewell and Gus Erickson )
18:00-18:45 1998/99 Governor's awards presentations
18:45-19:30 pre-diner drinks
19:30-24:00 diner and entertainment - "Initial" night

Program - Day 2 - Saturday, 28 August, 1999

07:15 past lt. governors breakfast meeting
08:45-10:30 business sessions (district policies - approved, resolutions - the resolution to support the principles on the UN convention on the rights of the child was adopted, address by Governor Mike Boyd, election of officers: district foundation trustee - Guy Probert, district treasurer - Merv Gyde, governor-elect - Barbara Kelly, governor-designate - Ann Raymond)
10:10-10:30 forum - The South Pacific Way to be a Kiwi (Past Governor Michel Fongue and Lt. Governor Hina Mercier)
10:50-11:50 workshops (publicity: Lt. Governor Lin Thompson, membership orientation: Lt. Governor Tony Popplewell and Gus Erickson, planning for excellence: Jane Erickson)
11:50-12:10 - addresses by 1999/2000 Governor-elect Barbara Kelly and International Trustee Hyun Soo Kim
12:10-12:30 - video "Dancing with the Moon" and presentation of World Service Project awards: Robert Lynds
12:30-12:45 - address by Jane Erickson - "Go forth and multiply"
12:45-13:00 - address by Governor-designate Ann Raymond
13:00 convention business closure
13:00-14:15 lunch Banquet Hall
14:30-16:30 1999/2000 district trustees meeting (for the new 1999/2000 district officers)
18:00-18:45 1999/2000 district officers inductions
18:45-19:30 pre-diner drinks
19:30-24:00 diner and entertainment

Program - Postconvention - Sunday, 29 August, 1999

09:30-10:00 thanksgiving service
Partners Program
Friday, 27 August, 1999

"The Arataki Experience" - a unique view of Auckland including 'Auckland 2000', with lunch provided.

Saturday, 28 August, 1999

"Shop until you drop" - individually arranged shopping.
Accommodation and Fees:
A large room at the Waipuna International Hotel (convention venue) costs NZ$135 per night including tax regardless of occupancy. The rooms contained two queen size beds and a single. A full registration fee of NZ$198 per person included participation at all social events plus morning and afternoon teas, Friday and Saturday luncheons, workshops and associated activities including the partners program for registered partners. A partial registration was available for the Saturday evening dinner and entertainment at NZ$90 double or NZ$48 single.

Registrations paid by credit card incured a NZ$5 credit card surcharge.
Convention Contact Details:
Chairman: Barry Lea
Secretary : Graeme Baker
Club Reports on the 1999 Convention:
A selection of individual Kiwanis club reports on the 1999 district convention.
Convention report from the Kiwanis Club of Te Awamutu
NZSP District Home Page / NZSP 2000 district convention page
---
Page last updated by
webmaster@kiwanis.org.nz (David Fentress)
on 5 August, 2005.
Your comments, questions and suggestions are welcome.