The Kiwanis Club of Whakatane, New Zealand
Welcome!! The Kiwanis Club of Whakatane would like to give you a little background knowledge as to what we are about, where we meet, when, who, etc.
The Kiwanis Club of Whakatane was originally started in 1970. We have had a wide number of volunteers over the years. Currently we are a small club, and actively seeking volunteers to join us.
We meet on the 2nd Friday of the month at the United Sports Club, 49 Domain Rd, Whakatane. Pre dinner drinks start at 6:00 pm and dinner is normally served around 6:30pm. Dinner is $15.00 per head and the drinks are additional at the bar. Occasionally we have guest speakers. We spend the night enjoying each others company, catch up on what's been happening in the community and organise the month's sausage sizzles, up and coming events etc. Guests are more than welcome to come along for a meal and friendly company.
Our main focus is about "Serving the children of the World" but in order to do this we need to raise money via sausage sizzles, raffles, and other local fundraising events.
The main annual event for the club is the Lake Rotoma Swim, held on Waitangi Day each year. This draws people from all over NZ and occasionally the world. In 2008, Swimming New Zealand used our facilities, boats, crew, etc to hold their 5K & 10K National Open Water Swimming Championships and pre Olympic Training Schedule. This was held on 3 days spread over a 5 day period. This was a great honour for the club.
Kiwanis International has a global campaign (ELIMINATE) in conjuction with UNICEF which aims to wipe out maternal and neonatal tetanus in a band of equatorial countries. Tetanus spores are present in the soil and may enter the body as a result of unhygenic birth practices. The spores cause the release of a nerve toxin which results in extreme muscle spasms and death. Vaccination to prevent this costs just NZ$2.20 for each woman and child.
For any further information regarding these events or our Whakatane club please feel free to contact our club President direct: Yvonne Turfrey (07) 308-6464 or mobile 027 221 6062 or email: ey.turfrey@xtra.co.nz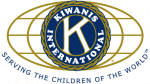 Thank you for taking the time to read about the Kiwanis Club of Whakatane.
The NZ/South Pacific District website is at http://kiwanisnzsp.org/
Page last updated 14 October 2019